Match Report
SATURDAY, MAY 30, 2015
(Excerpt from Swans website http://thevietnamswans.com/swans-win-manila-cup/)
The first match of the day gave the Swans the perfect opportunity to send a statement. Asian footy powerhouse the Hong Kong Dragons dominate around these parts and for the Swans, anything but an upset would be acceptable to get the day off to the right start. Coach Glendinning would emphasise tackling throughout the day and his players responded with players such as Tuan Nhan and Trent Davies throwing themselves into every contest.
The Swans midfield of Hyde, O'Shea and exciting young Hanoian recruit Tom Doer promised to be our crown jewel but with big Keysy unable to run any further than 20 meters in straight lines without breaking down, James Bairstow nursing a twisted knee, Vaughan Swart required down back to tame opposition full forwards, the big question was who was going to Ruck and will the mids be able to get their hands on it???  Left with no other option, Captain Billy Crang was inserted into the middle to rekindle illusions of former midfield glory. While the old boy may not have had the 'ups' of his opponent, his superior body work and the Swans mids superior skill and fitness levels were enough to allow the Swannies to rack up plenty of clearances right from the first bounce.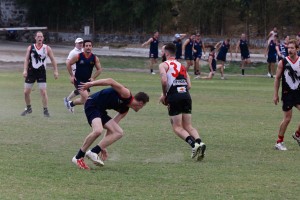 The Swannies piled offensive pressure on the Dragons and big Keysy and the rest of the forward line obliged. The Swans went into half time comfortably up and the makings of a memorable day started to fall into place. The Dragons came out breathing fire in the second half, getting back 2 of the 5 goals they lost in the first half and causing some nerves before the Swans settled all over the field. The backline being led by Pickert, Swart and the old trusty hand of Dan Morrison rebounded time and time again, the mids kept powering the ball forward and our forward line combinations proved unplayable. The Swans went through the first game comfortable winners and all of a sudden that self belief Rowan had thrust upon the boys was looking like it could work out.